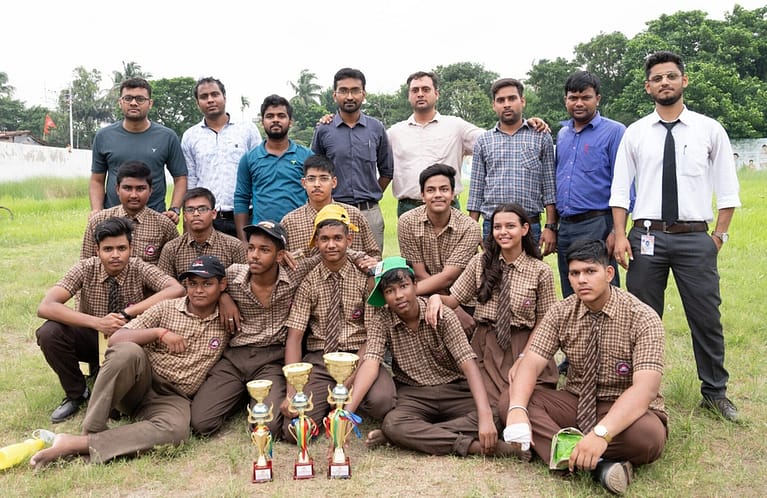 satisfied students all over kolkata
East point school aims to contribute to society though the pursuit of education and learning at the highest levels of excellence. The school is conducted and run by the board of members of NAGESHWAR FOUNDATION FOR EDUCATION, registered under the registration of societies and registration act 1961 government of west bengal.
East point school offers an education that encourage and questioning spirit,and extends the range of academics subjects in all major subject groups. It provide quality and depth across all such subjects flourishes from the inter – relationship between teaching and scholarship, and enchances the ability of students to learn throughout life.
EPS is in the process of expansion is spacious surroundings at Ichhapur (near Indrapuri). It has the provision for 6 bigha of land fo which 30,000 sq. feet has been completed for the presend building.The school is project to be 10+2 pattern C.B.S.E curriculum school. It has provision for large play ground where student can fullfill their co-curricular activites like football , cricket, athlestics etc.
EPS aims at imparting liberal education following the syllabus prescribed by C.B.S.E New Delhi curriculum.
East point school has a group of educated and experienced teachers who will provide indiviual attention and guidance to the students..
EPS aims at imparting liberal education following the syllabus prescribed by the C.B.S.E curriculum (New Delhi).
To generate the ability of communicating freely in students.
Helping the students to raise their confidence level,responsibilities,tolerance level, moral and ethical values.
To arm the students with essential knowledge and different skills which will help them to lead a quality life.
Our school helps students to blossom to their fullest & to be happy throughout their time period of school life.
Our school provides a friendly environment so that students can express their views & can share their experiences.
We provide an quality education with low fees and maintaining a high staff and student ratio.
Furnish a full solution for education from LN to senior secondary, so that parents have a complete pathway for their child.
Our teachers delivers education in such a way which allows students to flourish and achieve results to the level of their potential.